A postcard to an orphanage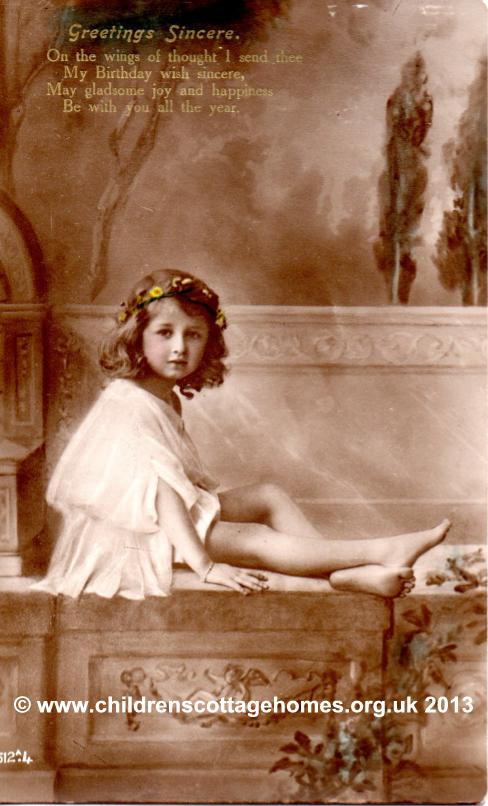 Many of the pictures I use on this site are actually postcards. It was popular in Victorian England to make photographs into postcards so that they could be sent to friends and family, not just from holidays but to convey day to day greetings. For most former children's homes, these postcards are the only photographs we have of the buildings.
In my hunt for new postcards, I came across the card pictured above. It is not, of course, a photograph of a children's home but it got my attention because it was sent to someone in a children's home.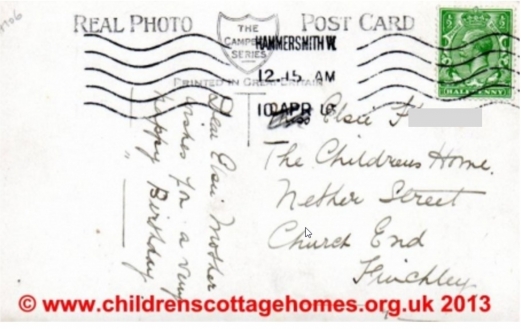 The card, carrying birthday greetings, is addressed to 'Elsie F......, The Children's Home, Nether Street, Church End, Finchley' and is dated April 10th 1916. The short message reads:
"Dear Elsie. Mother wishes you a very happy birthday"
Was Elsie F...... a member of staff, or a child living in the home? And if a child, why was she not living with her mother? Who ran this children's home?
Remarkably a short time after posting a picture of this card here on the formerchildrenshomes.org.uk website, I was contacted by Simon Trelfa who had spotted it on the website and said that he had also found a postcard addressed to Elsie F...... at the same children's home in Finchley, pictured below. This card, posted five years later on December 23rd 1921, reads:
"Dear Elsie, wishing you a happy Xmas from Granny C....."
So now we know that Elsie was at the home between 1916 and 1921, at least, and had both a mother and a grandmother who had her in their thoughts at times such as her birthday and Christmas.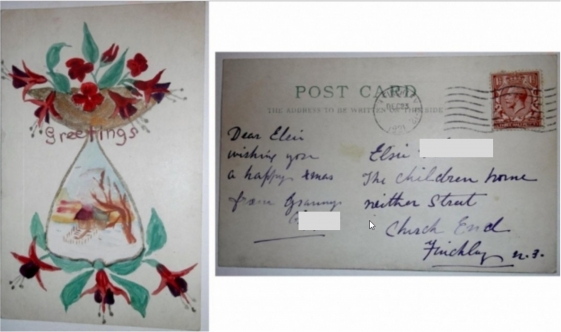 I wonder if Granny C..... painted that card herself?
Again, I posted Simon's card on this website and, a short time later, we were contacted by Jo Blake, another wedsite visitor who, intrigued by these postcards, did some digging on the website's behalf. She found the Finchley children's home in the 1911 Census and provided this list of who was recorded as living there in the census return:
The staff:
Mabel Bradfield aged 38 - Matron of Childrens Home
Annie McGee aged 30 - Matron's Assistant
The 'inmates':
Edith Cooped aged 14
Emma Cramp aged 14
Ethel Brown aged 14
Eva Foley aged 13
Ethel Maude possibly Cooper aged 12
Mabel Byford aged 11
Lilian Marshall aged 11
Doris Booth aged 11
Annie Marshal aged 9
Rose Hines aged 8
Edith Hines aged 6
Brenda Foley aged 8
Emily Brooker aged 6
Mabel Bannister aged 13
Dorothy Tucker aged 6
Caroline Vincent aged 5
Ivy Johnson aged 5
Jessie Adams aged 4
So, we have two members of staff and 18 girls between the ages of 4 and 14 living in this home, but no mention of our Elsie F......, who received the first postcard five years after this census was taken.
Small, often independent children's homes and orphanages were realtively common at the time. Without structured local authority care, small homes often sprang up in response to need, perhaps being funded by the local church, by philanthropists, or through subecriptions (donations) from the public or by charging the families or poor law unions who placed children there.
Following the clues
The postcards give us some clues:
Elsie had an April birthday
Her mother lived in Hammersmith (or at least sent the card in Hammersmith)
Her grandma was in Finchley (or, again, sent the card from there)
Her mother's maiden name could have been C......., Granny C......'s surname
If Elsie was a child at the children's home, she must have been aged between 3 and 14 when we know she was in the home and she received the cards ie. betweem 1916 and 1921.
Using these clues I have now found a possible match for Elsie. We have found an Elsie F ....... who was born in 1908 in north London and whose mother's name was C ...... before she married. This Elsie's father died in 1912. If these details really are related to our Elsie F......., this suggests that she went into the children's home after her father died, perhaps in 1912 when she was four years old, but certainly before she received the 1916 birthday card from her mother on what we now can think was her eighth birthday.
Perhaps the family was simply unable to look after or afford a child when the breadwinner was no longer with them? Or perhaps Elsie's mother remarried and started a new family without Elsie? Or perhaps Elsie's mother was herself ill. All these scenarios were common at the time, but there are many other reasons why children went into children's homes, none of which were the fault of the family nor the child.
When Elsie received the Christmas card from Granny C........, she was 13. She would probably have left the children's home in the following year, before she was 15. Commonly, girls went into domestic service, or perhaps, as they had kept in touch, she went to live with her mother and took on some other employment to pay her way.
After that, I wonder what happened to her. I hope she had a very happy life.
NB. I have not used the full surnames of either Elsie or Granny as I have included details that Elsie may not have wanted to be public.
---