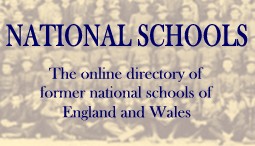 We are trying to compile a list of national schools, please contact us if you have memories or photographs of a national school or just basic details of where a national school was.
MENU
National Schools in Central England
National Schools in South West England
National Schools in Northern England
National Schools in Eastern England
National Schools in south-east England
BATLEY NATIONAL SCHOOL
Batley National School, Bradford Road, Batey in Dewsbury was founded in 1848 - the building (now a funeral parlour) still carries the date above the door. This building was listed in 1984.
It seems that a new national school was then built in 1861 at a cost of £2,000. This is listed quite clearly in The National Gazetteer of Great Britain and Ireland 1868 as transcribed by GENUKI
A mystery book
We have been sent this lovely book which has an intriguing reference to Batley National School.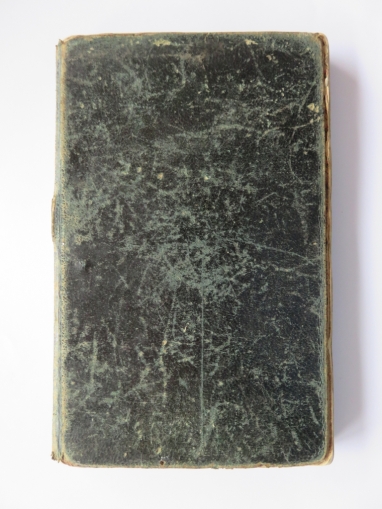 The book is a lined notebook which has a number of inscriptions from members of the Taylor family:
Nathaniel in 1850
John Taylor 1881
Ethel Taylor 1906
Frances Taylor 1933
Winnifred and Allen Hunter 1934 (children of Ethel Taylor)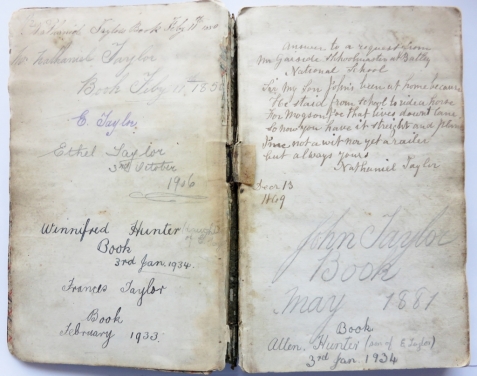 The first inscription is that of Nathaniel Taylor 11th February 1850 but there is another inscription from him on the facing page dated December 13th 1849. This reads as follows:
"Answer to a request from Mr Garside, Schoolmaster at Batley National School -
Sir my son John's been at home because
He staid from school to ride a horse
Fpr Mogson Joe that lives down t'lane
So now you have it straight and plain
I'm not a wit nor yet a sailor
But always yours, Nathaniel Taylor"
The pages inside are all written in Nathaniel's hand and initialed and dated by him. They appear to be long poems or songs painstkingly written out. Who penned the verse I have no idea. I have not been able to trace any of them. Was Nathaniel himself an accomplished poet? Was he copying out folk songs?
A taste of what Nathaniel wrote:
Deep Waters Blue
All alone in the sea in the midst of a storm
The waves they push'd madly encircling a form
Of innocent sweetness, so fair to my view
Like a beacon she rose n the deep waters blue
This long poem is signed Nat Taylor October 1850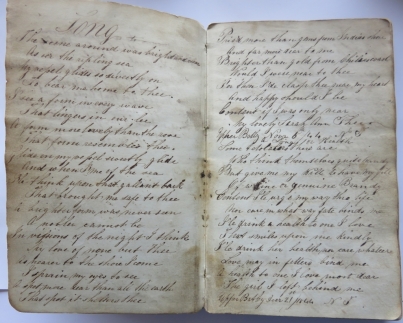 Was Nathaniel a pupil at Batley National School? Or is that inscription a red hering - a verse he was retelling? Was he a prolific poet? Or a boy practising his handwriting?
If anyone can cast any light on this, I'd be very grateful. Please email me. Thank you.