Minutes - the committees that ran the cottage homes would have met regularly and minutes would have been kept of those meetings. It is possible that information about individuals may be contained within these minutes. However, it is also possible that individual cases were not mentioned in these general meetings. Over the years, cottage homes would have been run by different committee - from the Guardians of the Poor committees in the early days to Social Services committees in the 70s and 80s. It is also possible that education departments may have run cottage homes in some areas at some point in their history. Whether these minutes have been kept for any particular set of cottage homes and are considered accessible will vary from council to council.
Council-owned records pre-1930
The vast majority of records of chilren's homes before 1930 were created by what was called the Guardians of the Poor (a forerunner of local authority welfare). These were passed to local councils when they were established in the 1930s.
Non-Council homes
Many children's homes were run by organisations which were independent from the Poor Law (pre-1930) and Local Council (post-1930) structure. Some orgnisations, say Barnardo's, still exist and have established ways of sharing information and records. Others may no longer exist and so the route is far trickier. I have tried to detail information about this on the pages of each children's home on this site.
There is more information about this in this book (available to buy from this site)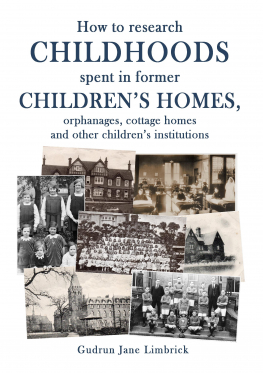 You may not be looking for records about you but about a close relative or perhaps a distant ancestor. If you are acting on behalf of someone who was in the cottage homes and who is still alive you can help and support them but ultimately, the request to see the data must come from them and not you.
The Data Protection Act does not give you any legal right to see information about other people. It does the opposite, it can be used to prevent you seeing information about other people. The Data Protection Act has been interpreted in different ways by local authorities receiving requests for information about third parties. You may, for example, be asked for proof that the person concerned is deceased.
The records concerned may be completely closed for 100 years or 80 years after they were first made. Or the records may be withheld because they also contain information about other people who may still be alive. Where the information can be given to you, you may be charged a search fee.
The first step in trying to find details about a relative or ancestoris to apply to the archives which covers the area in which the childrens home was located. They will be able to tell you what records they might have and what might be accessible to you. There is a list of archives below.
Archives and Records Offices
List of archives and record offices
The National Archives
It might also be worth a search of what the National Archives holds as some records, particularly older records, may be deposited with them.
http://www.nationalarchives.gov.uk/records/catalogues-and-online-records.htm
Good luck!
Accessing records can be a frustrating, infuriating, and slow-going process. You may get nowhere at all, you may find the answers to questions you have been asking all your life. Success may be down to perseverence or finding a helpful person in the local authority. Sadly, even though you have a right to see information held about you, whether you get to see it may just come down to luck in the end.