Marjorie's story
We recently received the following email from Canada:
"I am the daughter of a British Child Migrant. My mother, Marjorie, was born in Whitley Bay, northern England in 1926. In February 1937, Marjorie and three siblings were removed from their mother's care and placed in the Middlemore Emigration Home in Birmingham.
In September 1937 of that year my mother and a younger brother were sent to Vancouver Island, BC, Canada via the Fairbridge Farm School scheme. A younger sister followed in August 1938. The older sister was left behind at the Emigration Home because she was thought to be too old for the scheme. She was sent back home when she turned 16.
It was to their mother's eternal distress that she lost her three children to Canada.
I have written a book about my mother's experience - both as a child and as a senior returning to London in February 2010 to be present at Prime Minister Gordon Brown's formal Apology to all children who were sent from Britain during its 350 years of child migration (1619 to 1974).
"Marjorie Too Afraid To Cry" was published by Dundurn in January 2013.
I have attached a photo of my 86 year old mother - happily holding 'her story.' "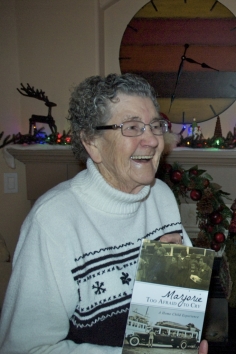 Patricia Skidmore