Nazareth House
In England, Wales and Scotland
The Sisters of Nazareth (also known as the Poor Sisters of Nazareth), was a Catholic order founded by Victoire Larmenier (later Mother St Basil) in 1851. By 1878, there were eight homes for homeless children and poor elderly people. Other Nazareth Houses followed.
The homes for children in this country have, as far as I know, closed but some are still in use as homes for elderly people, and area of work which the Sisters of Nazareth still focus on.
This page listes the former Nazareth House Orphanges and Children's Homes that I know about, there are others.
If you know of any other Nazareth Houses for children that I have missed, or you have information and memories (or corrections) about the ones listed, please let me know. Thank you.
NAZARETH HOUSE HAMMERSMITH
Please visit our page on this
NAZARETH HOUSE NOTTINGHAM
Nazareth House, Lenton, Nottingham
- Demolished 2005
- Some photos are available at The Lenton Times
NAZARETH HOUSE DERRY
Nazareth House, Bishop Street, Derry
- Opened in 1880
- News item about its closure in 2000 (when it was perhaps caring for adults?)
NAZARETH HOUSE BIRMINGHAM
Nazareth House, Upand Road, Selly Park
- Established 1910
- In 1954, it moved moved to Rednal
Nazareth Convent and Children's Home, Lickey Road, Rednal
- There was apparently a shetland pony called Christmas presented by Chipperfield Circus
- You could hear the hum of the Austin factory all night long including the steam shunting engines in the goods yard
- The convent has been demolished and a housing estate is where it stood
NAZARETH HOUSE KILMARNOCK
Nazareth House, Kilmarnock
- Still going in the 1970s
NAZARETH HOUSE BRISTOL
Nazareth House, Bristol
- Opened 1920s. Closed 1970
NAZARETH HOUSE CHELTENHAM
Nazareth House, Cheltenham
- Opened 1920s. Closed 1965
NAZARETH HOUSE ABERDEEN
Nazareth House, Claremont Street, Aberdeen
NAZARETH HOUSE MIDDLESBOROUGH
Nazareth House,Park Road North, Middlesborough
- Anne Fothergill has written a book called Memoirs of a Nazareth House Girl. I haven't been able to find the publisher but it seems to be available on Amazon and it also featured in the Northern Echo.
Memories and pictures can be found on the Gazette site.
NAZARETH HOUSE PLYMOUTH
Nazareth House, Gasking Street, Plymouth
- Moved to East Stonehouse in 1931 (building officially opened in 1932)
- Accommodated about 70 girls
- Moved to Elfordleigh Manor during WWII
- In 1971, a new orphanage was built next door to the old one.
- the place has now been completely rebuilt and is run as a care home for adults.
NAZARETH HOUSE LIVERPOOL
Nazareth House, Great Crosby
Nazareth House, Woolton Road, Liverpool
NAZARETH HOUSE HOUNSLOW
Nazareth House, Isleworth
- Establishd 1892 at Isleworth House
- Photos here on a history forum.
NAZARETH HOUSE ABERDEEN
Nazareth House, Claremont Street, Aberdeen
NAZARETH HOUSE REDNAL
Nazareth House, Lickey Rd, Rednal, Worcs
Apparently, there was a Shetland pony there called Christmas presented by Chipperfield Circus .The Convent has been demolished to make way for a new housing estate.
NAZARETH HOUSE, OXFORD
Nazareth House, Rectory Rd/Cowley Road corner, Oxford
- Established 1875
- Did this accommodate children as well as elderly people?
NAZARETH HOUSE, CARDIFF
Nazareth House, North Road, Blackweir, Cardiff
National Archives hold some records on this Nazareth House
Nazareth House, St David's Convent, Cardiff
NAZARETH HOUSE, St Sepulchre, NORTHAMPTON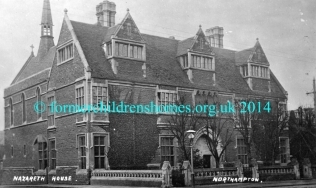 NAZARETH HOUSE, BIRKENHEAD
Manor Hill, Prenton (we understand it was still open in the early 1980s)
NAZARETH HOUSE, SOUTHEND-ON-SEA
We have received this message (please undertake your own checks before making contact, we are not able to do so):"
"We have set up a Facebook group and managed to connect with many other children who were resident with my sister and I at the Southend on Sea Essex Nazareth House children's home and wondered if you would be able to put a link on your site for the group so that we can find other children there with us
thank you
Angelina"
There was also:
Nazareth House, Newcastle upon Tyne
Nazareth House, Plymouth
Nazareth House, Swansea
Nazareth House, Scholes Lane, Manchester
Nazareth House, Sunderland
Nazareth House, Glasgow
Nazareth House, Midlothian
Nazareth House, Lasswade
Nazareth House, Aberdeen
Nazareth House, Cardonald
Nazareth House, Lasswade
Nazareth House, Kilmarnock
Nazareth House, London Rd, Westcliffe, Southend-on-Sea
Nazareth House, Dousland Road, Dousland, Devon
Nazareth House, Lancaster
NazarethHouse, Wrexham
Nazareth House, Bexhill on Sea
Nazareth House, Great Crosby
Nazareth House, Lawrence Road, Portsmouth
Nazareth House, Cheltenham
Nazareth House, Ditton, Widnes
Nazareth House, Wavertree
Nazareth House, Prestwich
Nazareth House, Richmond Road, London
Nazarteh House, London Road, London
Nazareth House, Leicester Road, Northampton
Nazareth House, Aberdeen
Nazareth, Upland Rd, Selly Park, Birmingham
Nazareth House, Lickey Rd, Rednal, Worcs
The Scottish Child Abuse Inquiry has heard testimonies about abuse in Nazareth Houses orphanages in Glasgow, Aberdeen, Ayrshire and Midlothian. This BBC report tells very upsetting summaries of some statements:
https://www.bbc.co.uk/news/uk-scotland-48460746
Other articles about allegations of abuse at Nazareth Houses:
[external sites]