Birmingham Area 1929
A snapshot of the children's homes and other residential institutions for children in Birmingham in 1929. This was a sgnificant year as it was the last year of the Boards of Guardians. In 1930, Birmingham City Council was formed.
The Ansell School (for Boys), Balden Road, Harborne
Aston Union Cottage Homes, Fentham Road, Erdington
Superintendent: RH Bryan
Matron: Mrs EM Bryan
Birmingham Board of Guardians' Girls' Hostel, 236 Bristol Road
Matron: Mary Williams
This hostel, known as Riversdale, opened in 1921 and was for girls who
had left a children's home (and school) and were going into work
– a working girls' home. In 1952 it was renamed Pebble Mill House and was
used as a City Council children's home until it closed in 1976.
Birmingham Children's Remand Home, 232 Moseley Road
Warden: Thomas Preece
This was opened in1911and funded by Barrow and Geraldine Cadbury. It was run
independently of the Guardians of the Poor. It was taken over by the City Council
in the 1930s. After the Second World War, it became known as Athelstan
House and was used as a reception centre. It closed in 2001.
The Athelstan House building when it was standing empty after its time as a remand centre
The Birmingham Royal Institution for the Blind, Carpenter Road, Edgbaston
Accommodation for 175
Birmingham Police Hostel for Girls, Newton Street
Superintendent: Miss Kate Short
This remand home was given to the city by Barrow and Geraldine Cadbury in 1928.
It was also known as Newton Street Remand Home. The street was not
far from the law courts. However, in 1939, the hostel was closed.
Birmingham Working Boy's Home, 198 Stratford Road
Superintendent: Thomas Brewerton
Blue Coat School, 18 Colmore Row and St Philip's Place
Instituted AD 1724 for the educating and maintaining of nearly 250 male
and female children who are received from 9 to 11 years of age and leave,
boys at 14, girls at 15.More information here.
Carnegie Infant Welfare Institute, Hunters Road, Hockley
Matron: Miss Elizabeth Exell
Children's Holiday Home, 76 and 78 Selly Oak Road, Bournville
Warden: Horace Cole
Church of England Waifs and Strays Society Home for Girls, 111 Church Hill Road, Handsworth
Matron: Miss E Shelton
More on the Waifs and Strays here.
The Church of England Waifs and Strays Boys' Home, 13 Park Road, Moseley
Matron: Mrs Evans
More on the Waifs and Strays here.
More on 13 Park Road (Sycamore House) here
Cottage Homes, Marston Green
Superintendent: James Rhodes
Matron: Miss BS Dittmer
Crowley's Orphanage for Girls, 43 and 44 Lee Crescent, Edgbaston
Matron: Miss Bertha Bowen
Dr Barnardo's Homes - 'Ever Open Door', 78 Alcester Road, Moseley
Superintendent: Mrs Marion Neal
More information on Barnardo's here
Lordswood Nursery, Lordswood Road, Harborne
Matron: Miss EL Anderson
Lordswood opened in 1928 and became the first of Birmingham's
residential nurseries - several more were to follow. Effectively, the
nursery moved, in 1939, to Red House in Overbury in Worcestershire.
It close in 1954.
Maryvale Roman Catholic Orphanage, Old Oscott Lane, Hamstead
Sisters of Mercy in Charge
Mason's (Sir Josiah) Orprhanage, Orphanage Road, Erdington
House Governor: GW Cleaver
Middlemore Emigration Homes, 157, 159 and 161 St Luke's Road
Matron: Miss N Sweeney
Norton Training School for Boys, Fordrough Lane, Bordesley Green
Superintendent: Sydney Pollitt
Matron: Mrs Pollitt
Receiving Home, Summer Hill Terrace
Superintendent: S Blandford
Matron: Mrs L Blandford
The Birmingham Board of Guardians bought this in 1905 as part of
their workhouse/cottage homes provision for children. Children would
be placed in Summer Hill until a permanent placement was arranged for
them. A school was added in 1921. The home closed in 1939 when the
children were evacuated in 1939 and didn't reopen.
Royal Institution for Deaf and Dumb Children, Church Road, Edgbaston
Established 1812, accommodation for 183 (mixed)
St Brigid's Hostel for Working Girls, 173, 174, and 175 High Street, Deritend
Superior: Sister Joseph Plunkett
St Francis Orphanage, 91 Church Road, Moseley
Sister Maria Francis
St John's Training House (RC) for girls, 18 Gravelly Hill north, Erdington
Sisters of St Vincent de Paul
This building was, in 1976, bought to be a regional remand centre
managed by Birmingham Social Services. The children were schooled
on site and rarely left the unit. Later, a secure unit was added.
After a series of incidents - inlcluding the deaths of two children in stolen cars, St John's remand unit closed in 1997 and reopened as Kingsmere Remand
Unit in 2000. Kingsmere closed in 2010. Two members of staff of St John's
have been convicted of the abuse of residents.
St Joseph's Roman Catholic Home, 31 Brougham Street, Lozells
Accommodation for 122 girls.
Mother Superior: J Whitehead
St Mary's Home for Women and Girls, The Priory, Bristol Road South
Superior: Sister Rev. Mother Philomena Duffy
St Philips Roman Catholic Orphange, 11 Oliver Road
Principal: Sister Superior
St Vincent's Home for Working Boys (Roman Catholics), 102 Moseley Road
Superintendent: Alfred T Flynn
Shenley Fields Children's Home, Shenley Fields, Northfield
Superintendent: Harry Mitchell Cohen
Matron: Mrs Bertha SE Cohen
Working Boys' Home, 205 Vauxhall Road
Superintendent: Sydney Charles Squires
This home was opened in 1913 and was later known as Vauxhall House. It was closed in 1952, the boys being sent to Milton Grange or Copeley Hill Hostel,
and the building was demolished soon after.
Working Girls' Hostel, Shaftesbury House, 3, 4 and 5 St Mary's Row
Matron: Sister MiIlicent Brownhill
Uplands Convalescence Home, Greenhill, Blackwell
As a convalescent home, The Uplands was run by the
Birmingham Hospital Saturday Fund which ran several convalescent
homes in the early twentieth century. In 1967 Birmingham City
Council bought it to use as a reception centre – children would stay
at the Uplands for assessment for a few weeks and then be sent to
one of the remand homes such as Tennal. In 1981, Uplands
itself became a remand home (called then a community home
with education). In 2003, Brian Gillam, manager of the Uplands
between 1973 and 1985 was convicted of rapes that had taken place
during his time at the Uplands. News report here [external website]
The Uplands closed in 2010.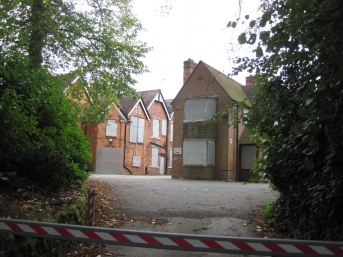 The Uplands building standing empty in 2010