Orphanages
In the nineteenth century, many large orphanages were set up by individual philanthropists and philanthropic organisations.
For orphanages established by charities, please see charity-run institutions.
While intially taking in only children who were orphans, the requirement to have no living parents was relaxed in the twentieth century and children were taken in for a far greater range of reasons including troubled family life and poverty.
Most orphanages set up by philanthropists in this way were closed in the mid twentieth century when there was a more formal and coherent state policy of looking after children in care.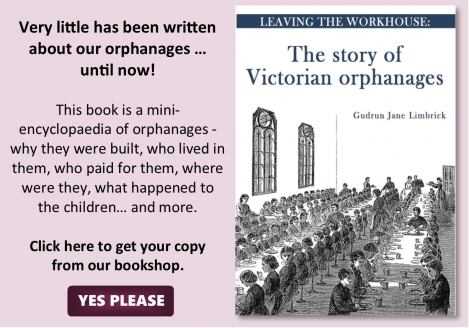 Examples of orphanages set up by philanthropists and philanthropic organisations:
The Foundling Hospital, London
RAOB (GLE) Orphanage, Aldridge, Walsall
Josiah Mason's Orphanage, Birmingham
The Royal Albert Orphanage, Worcester
Grove House Orphanage, Harrogate
Orphanages related to particular trades or professions:
Other orphanages were run for children whose fathers died in the service of particular industries or employers such as:
Royal Merchant Seamen's Orphanage
Royal Liverpool Seamen's Orphanage
Police orphanages
There were also at least 3 orphanages for the children of police officers:
1890s?
Metropolitan & City Police Orphanage
Based in Twickenham, 1870-1937
St George's House, Northern Police Orphanage
Based in Harrogate, 1898 – 1956External site
Orphanages set up by religious institutions
Many orphanages were set up by, or alongside, the Catholic Church and children were, in effect, separated according to their religion. For example, when Aston Union built its cottage homes at the very start of the twentieth century, it did not take Catholic children. Instead, Catholic children were sent to the independent orphanage set up by Father Hudson in Coleshill.
Nazareth House, Hammersmith, London
Nazareth Houses around the country
St Edward's Orphanage, Liverpool
St Vincent's Orphanage, Hampstead, London
Virgo Fidelis Orphanage, Central Hill, Upper Norwood
Many other orpahanges are listed on this site, please use our search facility and index.