NEW! Residential childcare at the end of the nineteenth century - a growing list of homes, orphanages, industrial schools and reformatories.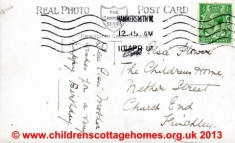 What can we learn about a childhood
from a single postcard?
Follow our journey of discovery
The idea of this site is to share our memories and our family history research to build up a picture of what life was really like for people in children's homes so you are very welcome to contribute any information and photographs to the site and, of course, please feel free to tell us when we have got something wrong. This is a complicated topic and we may very well make mistakes.
---------------------
There is important news about access to records for care leavers and their direct descendants - see our page on this.
---------------------
VISIT OUR NEW PRE-READ BOOKS SHOP
for bargain books about children's home and related topics. All proceeds go to maintaining this site.
Gudrun Limbrick


Like this site?
Please help us to keep it going.
Thank you!
We get NO external funding at all and rely on donations to function.