---
Little Folks School, Camberley, Surrey
Ann has sent this plea:
"I am looking for a boarding school that my mum said she went to called Little Folks school in rackstraw area of Camberley, Surrey. Have you heard of this one? "
"My mother was sent there in 1947 for 2 years. I know she re-visited the home in the 1960-70s so it must have still been there then. It was run by a Miss Potter and was 'an old house'. If you can help please let me know. Thanks"
Can anyone shed any light on this one? We know of a few places called 'Little Folks Homes' but cannot pin this one down.
_________________________________________________________________________________________
We have this message from Mary: "Hello, my mother, now aged 80, has been trying to find out about her early years, from birth in 1935 until she was adopted in 1939. She was baptised in a St Patrick's church in Huddersfield and she has a photo of herself as a toddler with a group of similar children in what appears to be a children's home. Does anyone know of any children's homes with links to St Patrick's in the 1930s to 1940s? We would be grateful for any information that would help."
.
_________________________________________________________
We have received this appeal for information from Geoffrey about a convalescent home in Kent. Can anyone help?
"I wonder if you could please point me towards any information about a Children's Convalescent Home in which I stayed sometime between 1948 and 1950, please? I was a sickly child, probably about 6 years old, living in Brixton, London. A lady from the welfare department (London County Council?) came to see me at home and asked whether I would prefer a stay in the country or at the seaside. I chose "country" and, with label attached, I went by train to a convalescent home which I believe was in Kent. "Ockenden" comes to mind but I have found nothing, so it was probably somewhere else.
It was a big house in the countryside. Being a London boy, I loved the rural life and have various memories of my stay there. The countryside walks in late autumn were wonderful. The regime was necessarily strict but that was pretty normal in those post-war days. Not all the boys were happy; some of the management's practices (which left a lasting impression) although well-intended, would today be severely frowned upon at the very least."
War Emergency Children's Home, Hesketh Park, Southport
Does anyone know who ran the Children's Home set up in what was known as 'Marshfield' (and then run by the Salvation Army) in 1943? We think it was initially at 37 Park Crescent and moved to 79 Albert Street. Claire has been is desperately trying to find out more.
Kings Lynn cottage home ?Colne Cottage
Can anyone help Bernard?: "I'm trying to trace a childrens cottage home in the Kings Lynn area West Bilney that I was in around 1930. Any information would be much appreciated. Thank you"
Could it be Colne Cottage? Does anyone know when Colne Cottage was open?
Aberdare House, West Wickham, Bromley
We've had this appeal from Cheryl:
"I'm looking for any pictures of Aberdare House, West Wykham (or Wickham) Bromley, kent for my grandad who was placed there in the 30s or 40s. He would like to show my nan. I would be extremely grateful for any help. My grandad is quite poorly at the moment and this would make him very happy."
Ken Wise put a message on our message board (post number 254 - 4th July 2014) saying he had some pictures - it would be lovely to hear from you again Ken! And perhaps we could put you in touch with Cheryl.
Many thanks for any help anyone can offer Cheryl and her grandad.
A Bristol mystery from the other side of the world!
Gillian, who lives in Australia has discovered from Ancestry.com that her grandmother was in a place called 'The Children's Home' at 5 Litfield Terrace, Clifton, Bristol at the time of the 1911 census. We have managed to establish that this place was probably run by the St Angela's Convent - a convent of a catholic order caled the Sisters of the Temple (or the Sisters of the Finding of Jesus in the Temple). Post WW2, it seems that the order ran a care home for elderly people in the building that had been the children's home and neither the convent not the care home are there any more. We have also not been able to find any trace of the Sisters of the Temple. It is not easy for Gillian to carry out the research, being so far away and in a different time zone. Can anyone help with any information about the building, the Order or if any records remain of the children who lived in the home?
Many thanks.
Do you know where this home was?
We have had an appeal from Carol to identify this home that her mother was once in. The pictures show distinctive statue in the garden and square pillars on the building.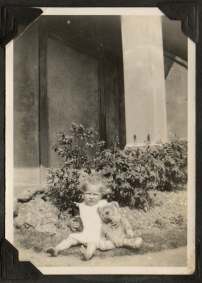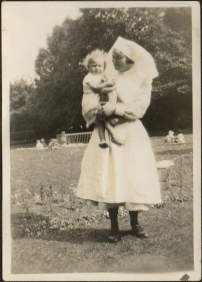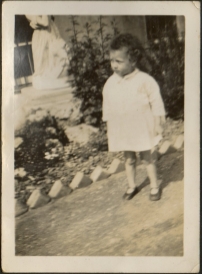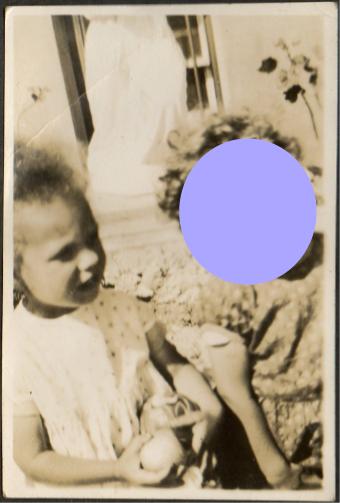 "I have been trying to help my mother trace her 'lost years' as a child.... She was born 12/10/1931 in Paddington, London. Her mother was single at the time and that coupled with the fact that my mum was very poorly as a child, meant that she spent about the first 6 years of her life in a convalescent home or orphanage, but she has no idea where!! I have been trying for many years to try & find out but it is proving impossible & I have all but given up, until I saw your website. Each time I think I may have found the right one, it seems that there are no records for it or that she wasn't there.
"Mum always thought she was in Gt Ormond Street but I have spoken to their archivist a couple of times & he is positive that she wasn't there. I have always wondered that as mum was born in the old St Mary's Hospital, Paddington, London, that they might have had a link to a certain convalescent home but this doesn't seem to be the case either.
"Mum's main problems were breathing, asthma etc. The only thing she remember is the beds being wheeled outside during the daytime and maybe pine trees and she was there for a few years. Sometimes she thinks it may have been near the sea but other times she says not!! I know there were a lot of homes in Broadstairs, Kent & I have contacted loads of people/organisations without success. Her mum did go to see her on a regular basis and she was sent home at the beginning of WW2. It is like my mum never existed for the first 8 years of her life. I don't think the children wore uniforms but the nurses certainly did. They were knee length dresses with a shoulder length hat/cap.
"Mum is very poorly now and it is getting increasingly important for us both to try & find out this information."
-----------------------------
UPDATE:
We've had a few of replies to Carol which we have passed on to her. Thank you to everyone who has taken the trouble to reply. We thought we'd reproduce this particular reply from Jo as other might find it useful:
"It may not be of any help, but I noticed that Carol says her mum was born in Paddington Hospital in 1931. My granddad was born in 1930, also in Paddington Hospital. He was sent to St Marylebone home and then the nursery in St Mary Abbot's hospital. Maybe Carol's mum went to the same places?
Also, I have just received all my granddads care records via the London Metropolitan Archives. Individual records from time in care are released to individuals via a social worker.
She makes the decision on how much information from the records is copied and released. In our case we had to provide evidence that my granddad was deceased and that my dad was his next living next of kin.
It took a couple of months, but we received his whole file and so much more information than we had before. It lists all the places he was sent to and various documents. We even have copies of letters my granddad wrote to the headmasters etcs of the residential schools he was sent to. So, sorry for the long email, but I think Carol's best bet is to contact the London Metropolitan Archives. They were very helpful and hold a lot of material!"
Thanks Jo!
UPDATE: We have recently received the following update from Carol - "I am convinced I have found the Children's home mum was in! I am pretty sure it was Ashford Residential School (formerly West London District School until 1930). All the pieces of the puzzle seem to fit this as the home/school had links with the Paddington Poor Law/Guardians and this is where mum was born. Her mum eventually settled in Ashford in 1939 just a few minutes walk from this school and I now know that she always worked nearby too."
Sounds like a good lead.
--------------------------------------------
Does anyone know which orphanage was evacuated in its entirety to Woolacombe, North Devon? It was probably a London-based orphanage or children's home (or perhaps cottage homes) and and it requisitioned The Crow's Nest, a small hotel belonging to the Gammon Family of Mortehoe.
Willow Cottage, Cobham, Surrey
We have received the following appeal for information. Does anyone know anything more about Willow Cottage?
"I wonder if you have come across this home - it was quite a large house run by a polish couple Mr. & Mrs. Pomorska (house parents) who were very nice people. Their own children also lived in the home as did quite a number of other children, both boys and girls. I stayed there with my brother during the school summer holidays of 1964, 1965 and 1966 when my mother was unable to care for us. I remember these holidays and the care we received with great affection. We were both under the care of the Wandsworth Borough Council Child Care Authority at the time. I think the home may have been administered by London County Council. I would very much like to find out more about the home. I can't remember where it was located exactly but I do remember the countryside around it was very pleasant.
"Any help would be gratefully received"
We have had a message from Barbara who has heard of a book on Fazakerley Cottage Homes. She had a relative who was a shoe maker there and believes he is mentioned. Does anyone have any details about the book? We'll pass any information onto Barbara.Thanks.
---------------------------------------------------------------------
One of the mysteries that appeared on this page,
relating to this postcard, has now been resolved.
Read about here.
------------------------------------------------------
"I was at Mounton House near Chepstow, South Wales in the 70s. Would love some info about the place, and hear from anyone that went there too. It was known as an "open air school" for serious asthmatics. I'm trying to find out exactly how long I was there etc, as I was so young nobody seems to know? It was a beautiful big manor house/mansion, and I was very happy there most of the time."
UPDATE
We've received the following information on this: "This was originally the Chepstow Poor Law Union Workhouse, which became a hospital type institution of the type described by the enquirer. Not sure what it is now (if any thing remains of it)."
Many thanks!
ANOTHER UPDATE many thanks to Carol fo sending this in:
"I know that this is still open today for ( I'm not if its just boys or both) children with either learning or behaviour difficulties.
When I was in my teens I had a friend who was naughty in the local Caldicot Comprehensive School was sent there.
"I hope this helps"
It really does Carol - thanks. And here's the website about the current school http://mountonhouse.co.uk/
-----------------------------------------------------------------------------------------------
Nelson Cottage, Dorking, Surrey
Can anyone help with this enquiry we've received?
"Hi, I'm trying to find a home my brother and I lived a short time in the early 1970s, it was called 'Nelson Cottage' in the Dorking / Boxhill area of Surrey - I have tried to find but alas nothing. Any help much appreciated."
We've had this reply from Peter:
"I was living in Nelson Cottage Children's home from 1962 to 1968. It is located in a village outside Dorking called South Holmwood.
"It was next to another cottage called Hampton Cottage. These two cottages were a stones throw from Oakley Nursery.
"The person who ran Nelson Cottage was called Joan Craig. We called her Auntie Joan.
I always kept in touch with Christmas cards and the odd visit!
"I have many memories and although it was a children's home, I always thought it was a good one and always felt loved by Auntie Joan."
Thanks Peter!
------------------
If you are looking for records relating to Nelson Cottage, I'd suggest you try in the first instance:
Data Protection Officer
Surrey County Council
Legal Services
County Hall
Penrhyn Road
Kingston upon Thames KT1 2DN
However, we haven't been able to verify this yet so if you do try it and hear anything or if you have different contact information, please do let us know.
--------------------------------------------------------------------------------
A trip to the seaside from a Midlands children's home
The next mystery is this group photo - perhaps from as early as the 1920s or 1930s - of a trip to the seaside. It is thought that it is from some sort of home, orphanage or maybe another type of institution based in the Midlands. Perhaps one of the Birmingham orphanages? Or cottage homes?
Maybe you recognise the occasion... or the uniform that the boys are wearing?