The Orphan Homes of Scotland
William Quarrier, in the 1870s, established a village of homes in Bridge of Weir, Renfrewshire (15 miles south of Glasgow). This self-contained community included 40 children's cottages, a church, a school, a fire station, workshops, and working farms. The Homes continued until late into the twentieth century.
The work to support children continues under the name 'Quarriers'.
For information on accessing records and the history of the homes, please visit the Quarriers website.
Annual reports from the Oprhan Homes can be found at this page on the Golden Bridge site. [external site]

A massive resource of photographs exists at The Golden Bridge site which looks at child migration from Scotland to Canada (including from the Orphan Homes and Barnardos) between 1869 and 1939. [external site]
---
In Care Survivors Service Scotland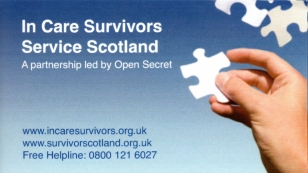 ---
In Care Survivors Service Scotland (ICSSS) provides a variety of services to anyone over 16 years old who experienced any form of abuse while in a formal care setting as a child.
Services include:
Free helpline
0800 121 6027
Monday to Friday 9am-11am