Oak Bank Open Air School, Sevenoaks, Kent
I don't have very much information about this open air school unfortunately. Can anyone help with a description of it?
The school, situated in Seal was an independent residential school in Seal for delicate children. It was certainly open in the 1930s, but I am not sure how much earlier. It closed in 1961.
LOOKING FOR RECORDS?

Some records of the school are held at the London Metropolitan Archives.
Note: There is another Oak Bank Open Air School in Gloucester.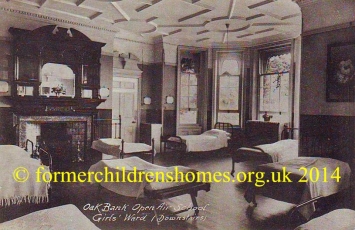 The above postcoard of the Girls' Ward (downstairs) was sent in 1937 from the school itself to an address in Putney about a child who had recently arrived at the school:
"Veronica has arrived quite safely and is settling down very happily and making lots of new little friends. She will send you a little letter next week to let you know
how she is getting on."