The idea of this site is to share our memories and our family history research to build up a picture of what life was really like for people in children's homes so you are very welcome to contribute any information and photographs to the site and, of course, please feel free to tell us when we have got something wrong. This is a complicated topic and we may very well make mistakes.
---------------------
Looking for my family
- an experiment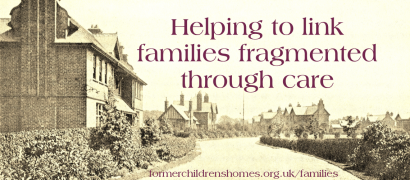 Recently, I seem to have received more requests for people looking for family members, particularly brothers and sisters, after being separated when one or more of them went to a children's home. For this reason, I am experimenting with providing a notice board so that people can give details of themselves in case missing family members are searching for them. Please let me know if you think this is useful.
CONVALESCENT HOMES
& OPEN AIR SCHOOLS
I have been trying to think of ways to make it easier for people to find children's homes and so am experimenting with county maps which will guide you to homes in that area. Have a look and see what you think!