We are receiving lots of enquiries about convalescent homes as people try to find the homes in which they, or their ancestors, stayed as children. All these searches seem to have one thing in common – it's really difficult!
Records about convalescent homes for children are proving time and time again to be difficult to find. The first problem is identifying them as their names are often difficult to recall and as children were there often for only a relatively short time, memories about where the homes were are often hazy. The second is that records simply don't seem to exist. Most convalescent homes were relatively independent – run by individual philanthropists, the local church or a local charity perhaps – and there was no legal requirement to archive their records and no clear path for this preservation and archiving to take place. Those that were run by hospitals, for example, or the larger charities may have had better processes for this. Additionally, it is not always easy to differentiate between convalescent homes for children and those for adults. And some may have accommodated both.
Because of this theme of frustration, and because so many convalscent homes were based in south east England, we are putting together this page in the hope that it offers some clues for people in their searches. If you have anything to add, please please get in touch.
What were children's convalescent homes?
The idea – in the late nineteenth century – was that poorly children would benefit from sea or country air. For this reason, convalescent homes were generally by the sea or in the countryside, or both. Sometimes the children were sent to a convalescent home to recuperate from an operation –perhaps a relatively short stay – or from a serious illness such as tuberculosis (TB) and some were sent to a convalescent home when they had a permanent disability. A stay in a convalescent home could be anything from a few weeks to several years.
A list of convalescent homes in the southeast of England
This list is by no means exhaustive. Please let us know if you know of more.
BROADSTAIRS
St Mary's Convalescent Home, Stone Road, Broadstairs Great information and discussion about the home here [external site] and our own page on it is here. (1887 - 1983)
Lanthorne Road, Broadstairs (see St Peter's also Muller)
The Lanthorne Home for Children, Lanthorne Road (1948 - 1970)
The Metropolitan Convalescent Home, Lanthorne Road. This was opened in by the Metropolitan Convalescent Institution. It became the Lanthorne Home for Children - see above (1896 - 1947)
St Peter's Orphan and Convalescent Home (started in Ratcliffe Highway, Stepney; then moved to Lanthorne Road, Broadstairs in 1870. In 1942 was transferred to the Children's Society and renamed Tait Home – the children were evacuated to Mortehoe, North Devon during the Second World War. As Tait Home, the home was open until around 1950).
The Muller Convalescent Home for Jewish children, Lanthorne Road. (see our page on the Muller Orphanage)
St David's Home, Stone Road, Broadstairs. A Children's Society convalescent home. The home moved from Hurstpierpoint in 1899. More details here [external site] (1899-1974)
Holy Cross, Ramsgate Road, Broadstairs – RC convalescent home, opened 1931, closed 1962There is some cross-over between convalescent homes and open air schools and the terms were interchangeable at times. Holy Cross was also called an open air school. More information on it can be found here.
North Surrey District Schools Convalescent Home, Marlborough House, Annerley, Granville Road, Broadstairs
The Convalescent Home of the Victoria Hospital for Children Chelsea, Stone Road. Opened 1892. (There was also a convalescent home connected with this hospital at Margate - the home in Margate was definitely functioning prior to 1892 and so perhaps moved to Broadstairs in 1892?)
Yarrow Convalescent Home, Ramsgate Road, Broadstairs. The full name of the orphanage was 'The Yarrow Home for Convalescent Children of the Better Classes'. The building is now used as the Thanet Technical College. (1894 - 1960s)
Clevedon House Children's Convalescent Home, Eastern Esplanade
I understand that some of the above information has come from a book entitled The Childrens Convalescent Homes of Broadstairs by Tony Euden. We are very grateful to the author.
HERNE BAY
Batesholme Children's Convalescent Homes, Herne Bay
South Metropolitan School District Convalescent Home, St Georges Terrace, Herne Bay
Birds Nest & Grange House, Convalescent Home for Children, 41 Brunswick Square, Herne Bay
MARGATE
Convalescent Home of the Infant Orphan Asylum, Wansted House, East Esplanade, Margate
Convalescent Home of Victoria Hospital for Children - Chelsea, 2 Churchfield Place, Margate (there was also a home connected to this hospital at Broadstairs)
More about this home here [external site].
RAMSGATE
Boys' Convalescence Home, 27 La Belle Alliance Square, Ramsgate
STAPLEHURST
Staplehurst Convalescent Home, Cranbrook - although founded as a convalescent home linked to the Metropolitan Hospital in 1896, became a convalescent home for children recovering from TB in the 1900s. In the 1940s, again changed use, this time to a boys' remand home. It closed in the 1980s. More about this home here [external site].
LONDON
Convalescent Home for Children, Shrewsbury Lane, Shooters Hill
Winifred House Invalid Children's Convalescent Home, Barnet (1886 – 1972). It started at Wray Crescent, Tollington Park, London and was originally known as Mrs Hampson's Memorial Home. It moved to Barnet around 1937. Some records exist in the London Metropolitan Archives [external site]
Hospital for Sick Children's convalescent home, Cromwell House, Highgate
ESSEX
Shoeburyness Sunshine Homes ( open in the 1920s)
Childhaven, near Brentwood
Greenwoods, near Stock
BOGNOR REGIS
Children's Convalescent Home for Surrey, Bognor Regis (1897 – 1948)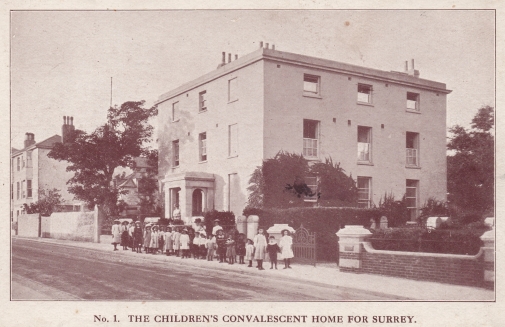 Hornsea Convalescent Home for Children (1902 – 1970)
ST LEONARDS ON SEA
Hertfordshire Convalescent Home, 123 West Hill Road, St Leonards On Sea. It was near the old West Hill Hospital and Malsbury House Children's Home. The home closed in 1982. (I haven't been able to confirm whether children were here or not)
BEXHILL ON SEA
Little Folks Home, Little Common, Bexhill on Sea. Children were sent from the Queen's Hospital, Hackney Road, Bethnal Green for up to 50 days' convalescence from 1911 to 1974.
Haldane (or Haldene?) House, Cooden Drive, Bexhill on Sea - for seriously and terminally ill children.
Braemar Childrens Home, De-La-Warr Road, Bexhill on Sea
Collington Manor Home, Collington Lane East and Walton Park Road, Bexhill on Sea (largely for children with TB sent from London hospitals)
HERPENDEN, HERTFORDSHIRE
The Sanatorium, Harpenden (run by the National Children's Home) Pictured below: